One definition of the term "material" is to consider it as matter with a function. This definition has guided the development of material sciences. The trend has been to develop customized materials that have multiple functions. They are created using a combination of materials, shapes and scales that have given rise to new material functions and characteristics. These materials are also being developed to be more efficient, sustainable and recyclable.
This guiding trend has forced material characterization experts to explore new constraints and conditions. These multi-functional materials require scientists to focus on material interfaces and very precise measurements of local characteristics and structures. Materials that include targeted chemical components require the use of metallurgy techniques that are a challenge in terms of characterization. The need for sustainability has encouraged the development of controlled characterization in-situ, while the need for recycling has created renewed interest in analytical chemistry.
Grenoble is particularly well positioned to overcome these challenges. Our ecosystem is a leader in terms of architectured materials (Labex CEMAM). We can take advantage of the CMTC as well as major European research equipment (ILL, ESRF, etc.). The CMTC has dedicated the past 40 years to the acquisition and use of the most advanced characterization tools. The platform has always worked to balance research, training and collaboration with industry. It serves as an excellent example of dynamic collaboration and mutualized equipment. In addition, the platform's capacities are complementary to our ecosystem's major research facilities.
To continue developing customized materials, we will have to evolve beyond traditional materials. New materials will be multi-functional in order to reduce quantities. To achieve this goal, they will be created using a variety of materials and architectures. They will have to be designed to favor sustainability and recycling. This change translates to a change in paradigm for characterization that can be summarized as "local, environmentally friendly and multi-scale." The challenge leaves the CMTC with fascinating work for its next 40 years!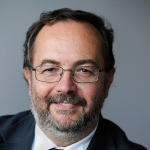 Yves Brechet
Grenoble INP professor and member of the French Academy of Sciences