---


Imagine a university that offers you all the schooling from nine European high-profile scientific universities.
Imagine how mobility between these nine campus can be simplified thanks to common procedures and services that will allow you to live the digital campus experience, whenever you want to.
Imagine innovative learning methods, and being able to learn a language as well as discovering different European cultures thanks to your study program!


European alliance
Unite!
makes all of the above possible. University Grenoble Alpes is part of this partnership, along with
8 other European universities
.
In concrete terms, Unite! will achieve these objectives though the following activities:
For students

Mobility, both physical and virtual within the Unite! network is possible for all students of partner universities. Students can participate in joint programs, summer schools, online courses as well as short mobility programs.
Easy access to language and culture courses of all possible destinations.

For doctoral students

Doctoral students can participate in programs collectively elaborated among Unite! partners for which research is closely linked to learning process, innovation and entrepreneurship.
Mobility in the Unite! network is also possible within the framework of scientific collaborations.

For staff

All staff working in Unite! partner universities can carry out mobilities, especially during themed Staff Weeks.
Staff are encouraged to participate in Unite!work packages when relevant.
Staff have access to the Teaching and Learning Academy, which aims to guide teachers develop flexible and pedagogically innovative academic career.

For regional stakeholders



Stakeholders on the territory (companies, authorities) benefit from an access to structures of innovation and entrepreneurship which allow them to constitute strong international partnerships.
What is more, Unite! develops models of collaborative management and governance, as well as support services, communication and quality assurance for Unite! inter-university campus.
Unite! has been granted an additional funding in July 2020 from European program Horizon 2020. Within this scope and thanks to its educational dimension, Unite! develops a strategy of research and innovation (R&I).
Unite!'s origins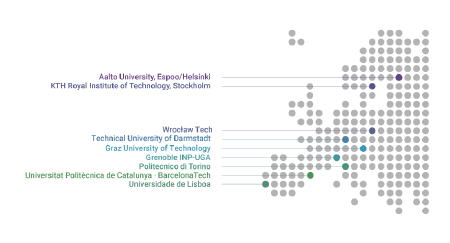 Unite! is a network of universities extended from Finland to Portugal, connecting European regions of economic prospect, entrepreneurship and innovation. Together the nine partners have
280,000 students
(2021) and annually
77,300 graduates
(2020).
They are already cooperating closely on more than 80 EU projects and have exchanged over 4,000 students in the past five years.
Unite! originates from
CLUSTER network
and builds on three decades of close and dedicated cooperation on different aspects of higher education, research, innovation and social responsibility.
The Unite! partners share a
common view
towards regional embeddedness, technology transfer, and engineering and science education, with complementary
multidisciplinary approaches
.
Structure of the Alliance
The Unite! alliance is coordinated by TU Darmstadt, Germany and is officially represented by the Unite! President. TU Darmstadt President Tanja Brühl was elected as Unite! president for a period of three years by the Unite! Governing Platform at the Kick-off event for Unite! in November 2019.

The Unite! Secretariat based at TU Darmstadt coordinates and leads unite! and is headed by Secretary General Andreas Winkler. The Secretariat is responsible for managing the alliance. All development objectives and challenges, whether short or long-term of Unite! are being handled by working groups.

The Unite! activities within each of the partner universities are managed by the Unite! Key Liaison Officers. Franz Bruckert is the Key Liaison Officer at Grenoble INP - UGA.

Working groups are divided according to their field of application: education (called "community") or research (called "work package")

Among these groups, Grenoble INP - UGA leads Community 6 - Professional development & training and coordinates sub-tasks in two other communities: Language Center and Internationalization at home. The school also leads Work package 3 - Sharing Infrastructures and Resources in the field of research.

Altogether, more than 80 Grenoble INP - UGA staff and student members are actively involved in Unite!'s development.
https://www.grenoble-inp.fr/en/about/unite-university-network-for-innovation-technology-and-engineering